Details
Fastaire Hand Dryer- Heavy Duty Vandal Resistant design with remote blower unit. Small Aluminum nozzle is all that is exposed. Switch unit is installed inside wall with blower mounted above wall. 6 foot long hose and conduit for remote blower unit. Longer hose and conduit lengths available on request with additional charge. Please inquire.
This style mounts "In the wall" with the blower unit and swich electrical running from the attic. Wall cavity = 4-7/16" so unit mounts in a standard "2x6" stud cavity.
See our model HD-FHD-03 if you have a "custodian closet" directly behind the uniit.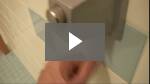 Additional Information
| | |
| --- | --- |
| Part # | HD-FHD-04 |
| Stock Status | In stock for quick ship |
Files for Download
Fastair HD-04 Cut Sheet - Product detail drawing (100.39 KB)